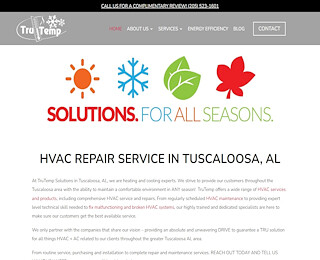 At TruTemp, our team of skilled HVAC experts makes us one of the most versatile HVAC contractors in Tuscaloosa. Our technician's collective knowledge allows us to provide the highest quality commercial and residential HVAC services. No matter your heating and cooling needs, our specialists are well equipped to provide the service that will solve your issue.
HVAC Systems We Service
We have the skill and experience to help with any HVAC problem, from professional heating services to air conditioning services, and all personalized to meet your needs. Our Tuscaloosa HVAC services include: 
Ductless mini-split systems
Emergency HVAC repair
Furnace repair, replacement, and installation 
Preventative maintenance service agreements
Commercial HVAC services
AC repair, replacement, and installation 
We care about our client's needs, and our technicians are always trustworthy and honest. As one of the best HVAC contractors in Tuscaloosa, we're always happy to work with you.
Experienced Technicians At Your Service 
At TruTemp, our experienced HVAC technicians are always eager to help you whether you need help installing a new AC unit or repairing a commercial heating unit. We can diagnose and repair any make and model of the air conditioning system. We also provide preventative maintenance that will improve the performance of your air conditioner and prolong its lifespan.
Our Core Values
At TruTemp, we attribute our success to our team of professionals who share the belief that if you're going to do a project, make sure you do it right. When you contact us for your HVAC service in Tuscaloosa, AL, you can rest assured that you'll find a team driven by a good set of core values. The core values that set us apart from other HVAC companies in Tuscaloosa include: 
Service
We provide 24/7 services
We are fully insured and licensed 
We inform our clients of our progress 
We follow up to ensure our client's satisfaction
We utilize extensive experience and knowledge. 
Performance
We provide high-quality work
We find the best way every time
We work at the top of our ability
We make the best use of available resources
We collaborate with you to achieve satisfactory results. 
Safety
We care about our team and their families
We take pride in safety being our top value
We provide safety training and exceptional PPE
We ensure each employee knows how to perform his tasks safely.
Integrity
We take appropriate action
We do everything right the first time
We say what we will do and communicate when we can't
We speak with positive intent and always show respect
We believe in honesty, which is always our best policy.
Contact Trutemp For Your HVAC Service In Tuscaloosa AL
TruTemp is your air conditioning company in Tuscaloosa, AL providing HVAC repair and service. Our HVAC technicians are committed to keeping your office and home comfortable all year round. You can rely on us for the best solutions. We urge you to contact us today at 205-523-1601 if you're looking for the best HVAC service in Tuscaloosa, AL.